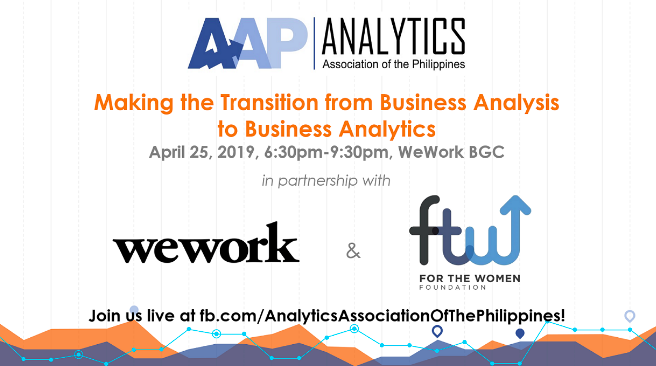 Business Analysis, according to the International Institute of Business Analysis, is the practice of enabling change in an organizational context, by defining needs and recommending solutions that deliver value to stakeholders.

Change in an organization can come through data. By looking into performance metrics of an organization, business analysts would be able to determine where process efficiencies can be made, where loses can be minimized, and where profits can be maximized. By doing this, business analysis enters into the realm of business analytics.

But what does it take to transition from business analysis to business analytics? That's the discussion that we will have on our April meetup!

The Analytics Association of the Philippines, in cooperation with WeWork and the FTW Foundation, invites career-shifters, domain practitioners, and experienced practitioners in analytics, to join us as we look into business domain cases (such as credit scoring, next best action, fraud detection, attrition scoring) and how business analytics can enable change through data.

We will be joined by a group of panelists well-versed in their domain areas. They will discuss how data enabled change in their organization. We will then dissect the solution across the various analytics job roles to show that everyone has a place in analytics.

--------------------

The FTW Foundation invites everyone to their April Socials right after the discussions. Don't miss out on it and discover how everyone has a place in Analytics!